150+
Number of Varieties
of apples grown
20%
of apples are pressed to
make varieties of cider
Mid-Sep –
Mid-Oct
Typically the best time to
see the changing colors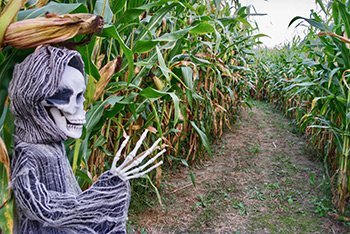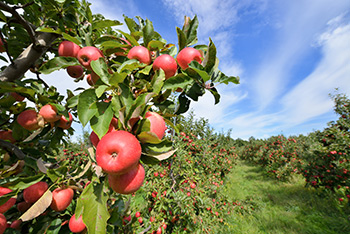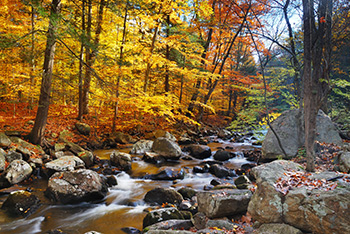 Ah, the fall in Vermont. There's nothing quite like it. The crisp air, stunning foliage, and the smell of apple cider doughnuts and pumpkin pie all contribute to the quintessential New England experience. Vermont's autumn season is breathtaking, with the leaves on the trees turning vibrant shades of red, orange, and yellow. It seems like every inch of the landscape is ablaze with color. Driving down the winding roads of Vermont during peak foliage season is like something out of a fairytale.
Fall in Vermont is a Food Lover's Paradise
Vermont's fall season is also a great time for food lovers. The fall harvests are in and the farmer's market stalls are packed with fresh locally grown food. From pumpkin spice everything to hot apple crisp, there's no shortage of seasonal treats to indulge in. If you're a fan of craft beer, you'll be in heaven – Vermont is home to some of the best breweries in the country, and many of them release special autumnal brews that are well worth trying.
And of course, you can't visit Vermont in the fall without picking your own apples. There's something so satisfying about plucking a perfectly ripe apple straight from the tree and biting into it – and it's a great excuse to spend an afternoon outdoors.
Temperature is Perfect Enjoying Outdoor Activities—Not too Hot, Not too Cold!
Fall in Vermont is the perfect time for hiking, biking, and other outdoor activities. The weather is cool and crisp, but not yet frigid, so you can spend hours exploring the mountains and forests without getting too sweaty or too cold. And if you're lucky, you might even catch a glimpse of some of Vermont's famous wildlife – moose, bears, and wild turkeys are all commonly spotted in the fall.
A Cornucopia of Fall Events! From Fall Festivals to Apple Picking, Corn Mazes & More!
But fall in Vermont isn't just about the pretty leaves and delicious food – it's also about the sense of community that comes with the season. Vermonters take their fall traditions seriously, and there are plenty of events and festivals to bring people together. Whether you're into classic car shows, harvest fairs, or spooky Halloween events, there's something for everyone.
And if you're looking for a truly unique experience, consider attending a cider pressing party – it's a Vermont tradition that involves crushing apples and drinking fresh cider, and it's a great way to meet locals and learn about the region's history.
Be Prepared for Unpredictable Vermont Fall Weather
Of course, as with any season, fall in Vermont isn't without its quirks. For one thing, the weather can be unpredictable – it's not unheard of to have a snowstorm in October, or to have temperatures in the 80s well into September. So if you're planning a trip, be sure to pack layers and be prepared for anything.
And if you're a city person, you might find that Vermont's rural charm takes some getting used to – there aren't many chain stores or restaurants, and you might have to drive a bit to get to the nearest town. But honestly, that's part of what makes fall in Vermont so special – it's a chance to slow down and appreciate the beauty of nature and small-town living.